Montepulciano
rise on a hill of 605m surrounded by its medieval castle walls. Its land is full of olive trees and wine yards, which produce one of the most famous Italian wine "IL NOBILE" and a worthy olive oil.Montepulciano called "the jewel of the sixteenth century" because of its big artistic and cultural movement is today one of the most requested destination for the cultural tourism. Many important artists and architects of Renaissance worked here .....
Montepulciano
Casa Poggiolo
........ The apartment is located in the historical centre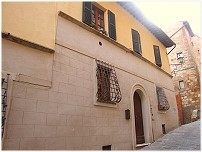 of Montepulciano, 100m far from Piazza Grande, that is one of the most beautiful Italian square and monumental town centre. Piazza Grande is surrounded by Palazzo Tarugi, Palazzo Contucci and Pretorio, by the Dome carried out by Ippolito Scalza, inside we can find works of Sano di Pietro, of Andrea del Sarto and Andrea della Robbia schools. On one side of the square there is also the town council, we discovered now that the Florentine Michelozzo was its designer, it looks like Palazz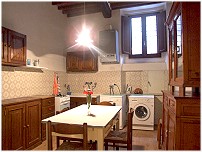 o Vecchio in Florence. The apartment recently refurbished is about 100mq, from its windows we can see over the town roofs the characteristic Tuscany country, the Trasimeno lake, the Chiusi lake, the Montepulciano lake and the central Apennines.The apartment consists of entrance, living room with a bed couch (double), two double rooms (total 6 beds), a kitchen with washing machine and dish washing machine, 2 bathroom and a store room, there is TV .